CLIC Innovation's EU project services
We are constantly looking for collaboration partnerships to join EU project proposals
Our expertise in EU projects lies in coordination, communication, dissemination, impact creation and exploitation, operational environment reviews as well as stakeholder, network and ecosystem engagement and involvement. Especially ecosystem facilitation, industry representation and co-creation, tools and methods development for co-creation and innovation is in the core of CLIC's expertise. We have also coordinated CSA and RIA projects. CLIC's extensive stakeholder network in bioeconomy, energy and circular economy themes is also a pool for potential companies to join the proposal based on the project needs.
Services we offer
Project coordination
Stakeholder engagement and involvement for tailored project activities, e.g., for value chain building, matchmaking and/or exploitation
Communication and dissemination
Exploitation and Impact activities
Reviews on operational framework
See references in our brochure.
Four pathways to create maximum impact for EU projects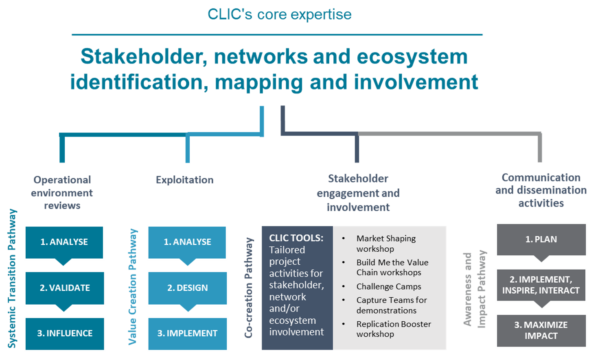 CLIC has produced four different pathways to steer the research, development and innovation pipeline towards maximum impact: 'Systemic Pathway', 'Value Creation Pathway', 'Co-Creation Pathway' and 'Awareness and Impact Pathway'. The different pathways maximize the involvement of important project stakeholders, networks, and ecosystems – they work also as standalone tasks/WPs or as parts to be included in relevant tasks/WPs. We tailor the pathways for best possible configuration for each project based on the role required.
Looking for Finnish partners to take part in your bioeconomy, energy or circular economy EU projects?
We are happy to help our partner companies in finding new European project opportunities. If your company is interested in finding new EU project partners or project initiatives and if you would like us to support you, please send us your contact details via this contact form and we will contact you as soon as possible. You can see the list of our partner companies on www.clicinnovation.fi page (bottom of the webpage).
Contact us for more information