CLIC ProjectBooster is a time forced challenge driven innovation project design process
The target of the CLIC ProjectBooster process is to create new challenge driven ideas to solve our systemic challenges. ProjectBooster utilizes online tools and face-to-face workshops to initiate thematic ideations for new projects. The process usually takes 2-3 months. The teams work with cross-sectoral challenges and define research questions. The companies and academia work side-by-side on the challenges at hand. The challenges are initially defined by companies and are based on the industry needs.
In the spring 2023 we will bring topics related to green energy transition, circular economy and bioeconomy to ProjectBooster. Additionally, we will feed R&D&I ideas from GreenE2 and 4Recycling ecosystems into the ProjectBooster process.
Preliminary timetable for ProjectBooster 2023 research pitch events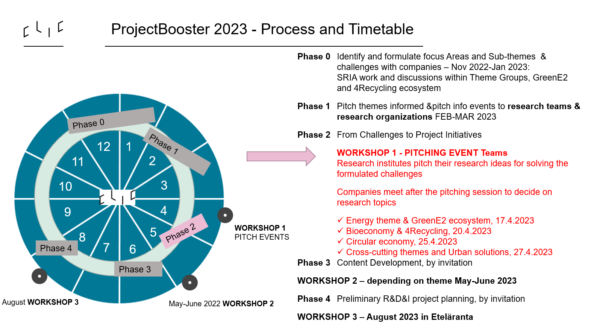 Schedule for 2023
Research pitch info session for researchers and research teams
9.3.2023 at 10 – 12. Register here.
Pitching events
Energy theme & GreenE2 ecosystem: 17.4.2023. Register here.

Topics:
1. Storage of electricity, heat, H2, CO2 and P2X fuels
2. Safety and security in H2 production, lgistics and utilisation
3. Hydrogen in city solutions
4. Catalytic processes P2X solutions
5. Carbon capture, utilisation and storage
6. Improving resilience of transmission and distribution grids
7. Power to People
8. Data analytics and modelling for energy systems
9. Raw materials and rare metals
10. Open ideas from researchers
Bioeconomy & 4Recycling: 20.4.2023. Register here.

Topics

Open topic based on Bioeconomy SRIA
Fiber materials of future
Packaging
Renewable binders, coatings and bio-based glues
Circular economy: 25.4.2023. Register here.

Topics

Security of supply – Improving society's resilience with the help of circular economy

Future directions of packaging materials – Technical and sustainability aspects

Open idea – Link to CE SRIA
Cross-cutting themes and Urban solutions: 27.4.2023. Register here. 

Topics

Hydrogen in city solutions

Electrolyzers (water, waste heat)
Symbiosis between cities and industries
Sector integration in urban environment

Measurements and monitoring

Technologies for acquisition, monitoring and analysis of data

Circularity in sustainable cities

Recycling of materials, waste & energy

Societal impact of the green transition

Balancing urban / rural gap
ProjectBooster is open to all CLIC owner organizations and partners paying the annual partnership fee and companies operating in the 4Recycling or/and GreenE2 ecosystems. We are collaborating this year with flagship companies ("Veturi") in the process.