We're excited to announce that the Helsinki-Uusimaa Circular Economy Valley was launched 9.2.2023 in a kick off event that gathered over 200 circular economy professionals to Pasila f2f event and via stream.
The event was hosted by Venla Virkamäki and Pipsa Salolammi from Helsinki-Uusimaa Regional Council. First Freek van Eijk from Holland Circular Hotspot gave the audience a good example of how to build a working circular ecosystem in a forerunner country.  
Taina Nikula from the Ministry of the Environment spoke about the strengths and possibilities of circular economy in Finland and in Uusimaa region. From the preliminary research for the Circular Economy Valley, we got insights from Inka Orko, Pirjo Kaivos and Tiina Laiho.  
After the first half there was a grand opening ceremony! Pia Tynys, the Chief Adviser of Climate Change, cut the ribbon and there were virtual confetti all around us.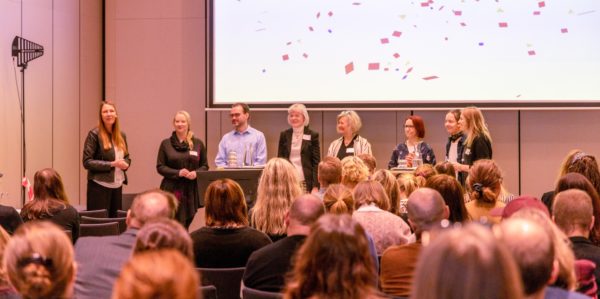 Circular Economy Valley kick-off
The second half of the event consisted of the specific introductions to the Circular Economy Valley by Pia Tynys, Simo Karetie and Nina Hurme. Pia went through the development process of the Circular Economy Valley and how it's tied to the regional strategies. Next, Simo explained the benefits of the Valley from the viewpoints of different stakeholders. And finally, Nina guided us through the process of the workshops that are built around the themes of the Circular Economy Valley. The leading themes are construction, textiles, plastic, food and waste electrical and electronical equipment.  
From here the work is only beginning, we hope to see many of you in the future workshops and taking part in the future activities. The workshops begin in May when we work with municipalities and brighten their role in the Circular Economy Valley. After summer vacation, we will dive deeper into the themed workshops.  
Further information of the workshops will be available on the CLIC innovation newsletter and website.  
For more information, contact Nina Hurme, nina.hurme@clicinnovation.fi.