When CLIC Innovation invited people to share and discuss sustainable solutions at its annual seminar, technology talk was expected, and it was duly delivered. Equal attention was, however, directed to business, regulation and people, which are all needed in a systemic transition to bioeconomy, circular economy and sustainable energy systems.
"If you have a product that tackles this, you will have a market," says Heikki Ilvespää, VP of R&D at the forest industry company UPM. He is pointing at a picture with a list of global consumer brands that have announced carbon neutrality or net zero to be their goal. He goes on to list wood-based products, such as chemicals, fuels and textile fibres, that can replace less sustainable materials used by these global brands and others too.
Problem solved. And we are only at the first keynote presentation of the annual seminar held by CLIC Innovation in Helsinki. Ilvespää then adds that many of the new wood-based products require new value chains and huge investments in production.
Investments and public acceptance needed
"For companies, investing in pulp is the right and lucrative starting point, and it further enables investments in new wood-based and value-added downstream products," Ilvespää says. Later, in a panel discussion about bioeconomy, he points out that conveying this message with its promising outlook to the public is a challenge, no matter how positive it may seem to the seminar audience.
Erik Kolehmainen agrees with Ilvespää on the importance of public acceptance. He is VP at Metsä Spring, an innovation company within the forest industry company Metsä Group. Metsä Spring is helping to build a business ecosystem around Metsä Group in which internal and external startups create new products, for example, from pulp and side streams.
"We make investments in startups and help them particularly with scaling up the production, while other private investors can help them to commercialise their products," Kolehmainen says. He considers scaling up a risky phase that financial investors often shun. Therefore, he stresses the importance of public funding.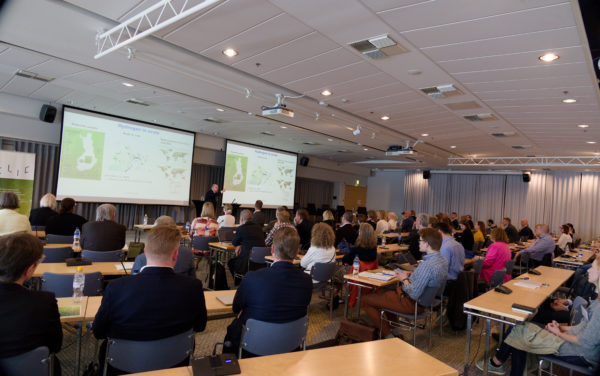 To collide and innovate
When talking about new sustainable materials, keynote speakers refer to materials that replace less sustainable ones but also to materials that beat existing ones with novel properties.
Henrikki Liimatainen, professor of Fibre and Particle Engineering Research Unit at University of Oulu, wants to seek inspiration from nature, which is known for excellent materials. He also asks, whether artificial intelligence, quantum computing, digitalisation or better understanding of consumer behaviour could help scientists convert lignocelluloses into breakthrough innovations.
"It's not enough to have a few scientists doing fancy things. We need clusters from different disciplines colliding with each other," Liimatainen says. He is clearly not alone there. Most keynote speakers at the seminar emphasize the importance of multidisciplinary and cross-sector collaboration in clusters, consortia, ecosystems, you name it.
Always find the business case
Two technology providers, Wärtsilä and Valmet, share their experiences as leaders of their Veturi programs, which are ecosystems partly funded by Business Finland. Wärtsilä aims to boost green transition in marine transport, whereas Valmet concentrates on recycling and other processes needed in circular economy.
"Leading a wide and open innovation ecosystem is a learning process for us," says Janne Pynnönen, VP of R&D at Valmet. He expects their ecosystem to have at least 115 partners by 2025.
Ecosystems may grow fast, but Kenneth Widell, senior project manager at Wärtsilä, calls attention to the slow pace of change.
"99 percent of marine fuels are fossil. So, the shift to renewables will not happen overnight. We always need to find the business case first," Widell says. Besides business, Widell stresses the other driver: regulation.
More research on regulation, please
Being one of the main drivers of a sustainable future, regulation is included in some of the R&D programs presented in the seminar.
"It's important that people developing technology understand how regulation evolves. During our program we have learned a lot from those who study regulation," says Matti Vilkko, professor of control engineering at Tampere University. He refers to a research program on circular economy of water in industrial processes led by him and coordinated by CLIC Innovation.
"One of the main barriers for circular economy is still our linear mindset. It has been built into institutions and legislation during decades. The key issue is to get rid of it, but it takes a long time and requires research. We need a better understanding of where we are in circularity and what the impacts of regulation are, including its social impacts," says Petrus Kautto, development manager at the Finnish Environment Institute (Syke), in the panel discussion about circular economy.
Social justice of social transformation
The last panel discussion, which is about energy, jumps to social issues right from the beginning.
"Energy transition is a social transition, a revolution. Everything will change. First in the power sector, then in transport and in industry," says Peter Lund, professor of new energy technologies at Aalto University. He trusts technology to be there when needed, as a lot of it is already exists, but the social challenge remains.
"We need to talk about social justice to keep everybody on board in different countries, the EU, the whole world. We come to the fundamental question of climate change: What is right and what is wrong," Lund says.
Trust – key to collaboration
Besides justice, trust is mentioned by several keynote speakers. Trust is obviously a key to open collaboration and innovation between companies, but equally important for academia and each individual researcher.
"Scientists want to build trustworthy industrial partnerships, which enable the development of their research ideas towards innovations. It's also about their careers," says Harri Niska, project leader of industry-university collaboration at the University of Eastern Finland. He is one of the seminar attendees happy to be back and meeting people face to face – and building trust.
"Creating an ecosystem is a very sensitive phase, and it's good to have neutral partners, such as CLIC Innovation, to organize pitching and connecting academia and industry," Niska says.
A lot of talk about AI, but…
Another attendee, Jussi Heikkilä is a first-timer at the annual seminar. He is the CEO of Teamit Group, a software company founded by him ten years ago.
"It has been interesting to notice that many speakers mention digitalisation and AI, but when I look at R&D programs and ecosystems, these topics are rarely there," Heikkilä says. He admits that an ICT company is not necessarily an essential partner in the basic research, but when it comes to applied research, he believes ICT skills could be used a lot earlier than they usually are.
"A big challenge in a green transition is timing. With early involvement software partners could reduce the time to market and help new services to be ready when people are ready," Heikkilä says.
Another way software can support ecosystems is to facilitate the collaboration itself. This is something CLIC Innovation already does with its Playbook tools and training services. They are designed to help facilitators of emerging and existing ecosystems to manage ecosystem operations efficiently and successfully. At the seminar the results are shown in presentations as well as posters introducing projects and ecosystems coordinated by CLIC Innovation.
Author: Marianna Salin