The first 4Recycling ecosystem Annual Forum was held on 29 August 2022 in Eteläranta, Helsinki. The Forum was the 1st physical 4Recycling ecosystem event since the kick-off of the program in 2020.
Jatta Jussila, CEO of CLIC Innovation opened the event with the brief overview of challenges the ecosystem is tackling.  After the opening, the ecosystem lead and Head of Bioeconomy Aila Maijanen and Head of Circular Economy, Pirjo Kaivos, CLIC Innovation, presented the results of the two-and-a-half-year activities of the ecosystem: ecosystem principles, RDI roadmaps and market shaping analysis.  
Jaakko Jokinen from JAY Partners gave an overview of the markets and trends of the 4Recycling focus areas, covering the timeline from the initial stage until the end of the 1st phase of the program. In his presentation, he emphasized the brand owners' value and commitment to the plastics challenge that we are now facing.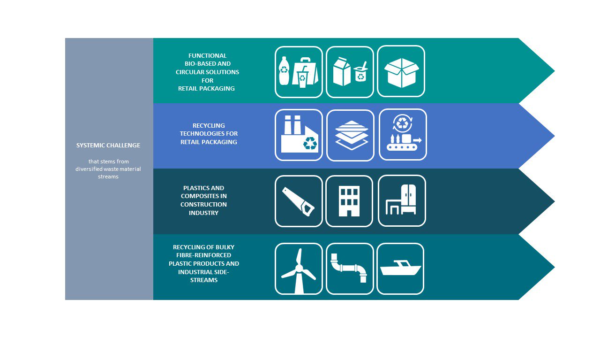 International collaboration  
Keynote speaker Samuele Ambrosetti, Programming and Innovation Manager at Bio-Based Industries Consortium (BIC), gave a presentation about BIC's role in Circular Bio-based Europe Joint Undertaking (CBE JU) and CBE JU's operations. 
The second part of the event focused on the experiences and expectations of the 4Recycling ecosystem partners. For example, Veturi -ecosystems ExpandFibre, coordinated by Metsä and Fortum and SPIRIT programme by Borealis were presented.   
All in all, the event emphasized the continued need to find future solutions to solve the plastics challenge and to accelerate plastics recycling.   
The atmosphere in the event was very inspiring as this event was the first physical event of the ecosystem since the kick-off which gathered industry and research partners together after the pandemic.  
The work with 4Recycling ecosystem continues. We will further strengthen the international cooperation, welcome new members, and continue the market shaping activities in each focus area.  The ProjectBooster pitching sessions to find new RDI project ideas for 4Recycling challenges will continue to run in the future. The EU Green Deal and Finnish National Bioeconomy strategy are guiding our work. 
Challenges continue to exist. At the moment, only 40% of the plastics in garbage disposal of residential buildings are being recycled in Finland and from this amount, 50% can be used to reproduce plastic granulates. Moreover, multimaterial products are not going to disappear in the future, we need to be able to redesign, reuse and recycle. The regulation on the EU level continues to be difficult to foresee.  The development in 4Recycling ecosystem continues towards more recyclable plastics and new biobased products to replace plastics.   
See all the presentations from the Annual Forum on the 4Recycling ecosystem website.