What makes ecosystems succeed and what is the relation between different types of ecosystems? How should they co-exist and co-operate to maximise each other's results?
There is increasing number of different kinds of ecosystems to tackle different challenges in our markets. We as CLIC Innovation function as an open innovation ecosystem and support solving different thematic systemic challenges across industries with large variety of operators. Open innovation ecosystems are usually formed to tackle systemic challenges that no actor alone can solve. Many times, open innovation ecosystems support creation of solutions, which are yet not available or offered by any organization. Open innovation platforms provide a "seedbed" for ideas to grow openly without any organization's sole ownership of the idea. Open innovation ecosystem offers a new way of sharing ideas, resources, knowledge without organizational boundaries and offer new business opportunities with diminishing cost for idea creation and piloting.
Again, there are different kinds of ecosystems with different kinds of targets, which link directly/indirectly to open innovation ecosystems. As it has been hard to define different ecosystems, we have been using VTT definition to clarify the differences between these ecosystems (see picture 1 for one illustration).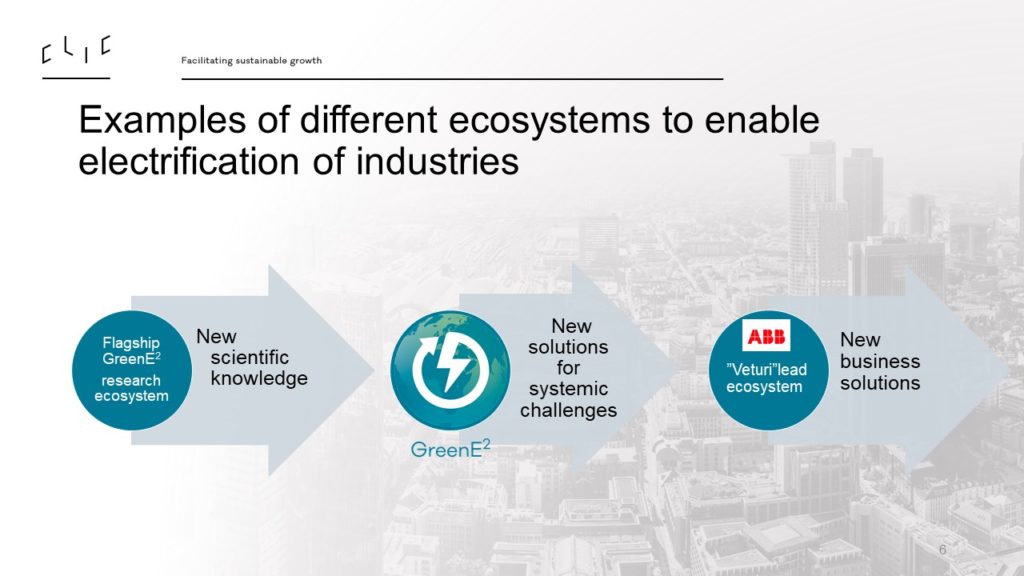 Knowledge ecosystems produce and create new research data, innovation ecosystems like CLIC's open innovation ecosystem GreenE2 support the creation of new solutions and business ecosystems like ABB's lead ecosystem develop new commercial solutions and growth companies like Flexens support the acceleration of the commercialization. Each of these ecosystems should "feed" information to each other to ensure the necessary data "flows" into the innovation ecosystems, which in turn should feed the best solutions to business ecosystems for business execution.
Our financing instruments support different ecosystems with different instruments and hence ecosystems are usually being built separately for basic research, open innovation & applied research, and business execution. Business ecosystems are either led by lead companies and growth is supported by growth companies. For this reason, there are sometimes "gaps" between different ecosystems and many times data, information, know-how and knowledge resources are lost between these different kinds of ecosystems. In order to maximize our return for investments for RDI, we must ensure smooth and active co-operation between different types of ecosystems. Here the dissemination and handover of research & results is one of the keys to success and ability to support the pre-commercialization part as early as possible. The feedback loop back from business should work also "backwards" as it is important to feed those business needs also towards applied research and even basic research.
As we in Finland are at 2,795 % R&D investment level on the yearly GDP level (2019), we still lag behind our target of 4,5 % R&D&I investment of GDP, we need to make sure every invested € has an opportunity to impact our sustainability & commercial targets. According to EU statistics we still face an innovation deficit. Too few R&D investments commercialize and end up in the business ecosystems development roadmaps. The co-operation between research and lead & growth businesses and different operators and clusters working with these ecosystems is hence crucial for our future success.
In our project "open innovation Playbook tools &processes & services" we have developed different tools that support the handover processes between different types of ecosystems. Get to know more about the Playbook tools here.
Sources: Horizon 2020 interim evaluation: maximising the impact of EU research and innovation (COM (2018)
OECD statistics for R&D&I investment: https://www.oecd.org/sti/inno/researchanddevelopmentstatisticsrds.htm