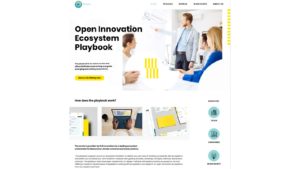 CLIC Innovations' own Playbook project – tools, models and services for managing B2B co-innovation and business ecosystems is proceeding to next phase. During the first year of our project we have focused on understanding how ecosystems work and learning from 13 different ecosystems from different European countries and Finland. These learnings we have used as a basis to develop tools and online service to manage ecosystem efficiently and succesfully in the future. Co-creation methods have been used in several design workshop to come up with new type of tools, methods and models.
Next step in this project is now under way as we piloting the tools with our partners and arranging tailored workshops for different ecosystems in different development phases. Our target is to support our partner network ecosystems with the tools and methods provided by Playbook and train as many facilitators as possible.
The online demo has been launched and is available at www.ecosystemplaybook.com or www.ecosystemplaybook.fi. More tools will be introduced into the Playbook during winter and spring 2021 and further development will be done to reiterate content according to feedback.
Our research partners University of Vaasa and VTT have been producing articles and further research on open innovation ecosystems during the project.
More information about the Playbook online service & tools and piloting opportunities& training options.
Contact: Tiina Laiho, 0400 854 888, tiina.laiho@clicinnovation.fi