Merie Kannampuzha and Susanna Kupiainen started at CLIC in January. Get to know Merie and Susanna!
Merie Kannampuzha started at CLIC in January 2022 as RDI Manager. She will work and support the Energy theme activities.
Get introduced to Merie:
I grew up close to the ecologically sensitive Western Ghats in Kerala, a tropical paradise. However, global warming and changes in the environment are affecting the fragile ecosystem causing extreme high temperatures, droughts and disasters like floods during the recent years. Transition to clean energy systems is one way to address this worrying trend.
CLIC Innovation and its focus on circular economy, bioeconomy and smart energy systems is a natural fit to my experience and skills. I am an electronics and telecommunication engineer, with a Masters in IT Management and PhD in entrepreneurship.
In academia, I have worked in various innovation research projects at four different education institutions in Finland and Denmark.
In the private sector, I have worked in managing and delivering software engineering projects in India, UK and Germany. At my last job at United Nations, I worked on developing and delivering digital innovations to various UN agencies. Data sharing between various stakeholders and digital transformation are some of the enabling factors for sustainable transition to smart energy systems and circular economy.
I aspire to use my expertise and skills to work on projects enabling sustainable growth innovations at CLIC.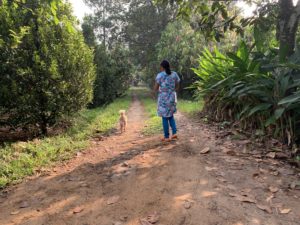 Merie with Snowy. 
Merie with Snowy. Snowy was a 'refugee' dog who swam to the home of my parents and found a safe place on their rooftop terrace in July 2018 during the floods in the village where I grew up. After the water subsided Snowy refused to leave the home of my parents as she did not know how to go back to her owners. Since then my parents are keeping Snowy.
Susanna Kupiainen started at CLIC in January 2022 as Communications Assistant.
Get introduced to Susanna:
I am Susanna Kupiainen, CLIC Innovation's new Communications Assistant. I am a freshly graduated Master of Social Sciences from the University of Helsinki, where I studied global politics and communication. I majored in governance, organizations and communication, with a side focus of media and EU studies.
Since I was old enough to work, I have gravitated towards customer service, as I am very social and enjoy interacting with people – it is probably the main reason I ended up in communication studies in the first place. I am naturally very curious and like to know what is going on in every department and project, which luckily also makes perfect sense as a communication assistant.
During my studies, I worked first as a service assistant and later as a communication trainee at Sinebrychoff, the oldest brewery in Finland. Sinebrychoff's ambitious responsibility projects related to natural resources, carbon neutrality and recycling taught me a lot from the producing point of view, and now with CLIC Innovation I get to see new state of the art innovations develop.
I also spend most of my free time socializing – my favorite things in my after-work calendar are a weekly pub quiz and as many meetings with friends and family as possible. When I am alone, I also like to play the guitar to unwind.