CLIC facilitates the SUSBINCO consortium to develop sustainable bio-based binders and coatings in a two-year project.
SUSBINCO steering group meeting and general meeting was organized on 17 May 2022 at Åbo Akademi, Turku. A year ago, CLIC was facilitating this project consortium to be built, and last week CLIC was selected as project coordinator for the project that has been running for half a year now. The contract is effective until the project end, i.e. November 2023. SUSBINCO develops sustainable binders for different industry usage, which can be used in packaging, paints, adhesives, sealants, and abrasives. The project implements for its part the SRIA of CLIC Innovation's forest-based bioeconomy. 
Cross-sectional reviews and discussion in a spirit of togetherness 
The hybrid meeting collected all the 18 consortium members to present the project proceedings. All research partners and WP leaders introduced the status of the project during the day. The company presentatives gave positive feedback and further results are awaited. A laboratory visit was organized by Åbo Akademi researchers after the intensive meeting.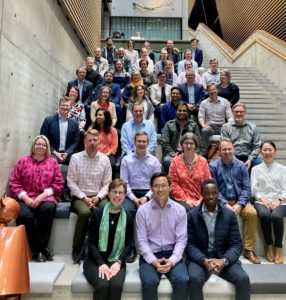 Members of the consortium: Brightplus, CH-Bioforce, CH-Polymers, Kiilto, MetGen, Metsä Board, Mirka, Montinutra, Teknos, UPM-Kymmene, and Valmet Technologies, Åbo Akademi, VTT Technical Research Center of Finland, Lappeenranta-Lahti University of Technology, University of Oulu, Natural Resources Institute of Finland, Tampere University, and University of Eastern Finland.