BEST – Sustainable Bioenergy Solutions for Tomorrow
Bioenergy is a key element of bioeconomy, which plays a central role in the shift towards truly sustainable society. Although bioenergy (=energy derived from biological sources) is the oldest known source of consumer energy, it is not outdated – bioenergy remains to be an essential element also in the future sustainable energy system. It has great potential in mitigating climate change, meeting the growing global demand for energy in a sustainable way and promoting local energy self-sufficiency. However, seizing these opportunities also poses several new challenges: new competences are required for example in learning how to supply and utilize different biomasses cost-effectively, create winning solutions for different markets or design bioenergy solutions for urban areas. The business environment is also changing faster than ever, and new operating models and networks are needed in the increasingly complex environment.
Based on these drivers and projecting from the existing Finnish competencies towards future bioenergy business, there are three main issues which form the core of the program: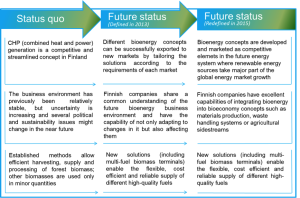 In the BEST vision Finnish bioenergy companies and R&D community possess the top bioenergy know-how in the world and are able to utilize and affect the development of the operating environment to create new sustainable bioenergy business both in Finland and globally.
BEST program in short
Sustainable Bioenergy Solutions for Tomorrow (BEST) is a public-private research program launched in early 2013. BEST crosses traditional business area boundaries and joins the strengths of forest and energy sectors, complemented by the know-how of technology and consulting companies and research organizations. The program partners currently consist of 22 companies and 12 research organizations. The duration of the program is four years (2013-2016) with an annual budget of roughly 4 MEUR.
Program partners
Aalto University, Andritz, Arbonaut, Ekokem, Etelä-Savon Energia, Finnish Environment Institute, Finnish Institute of Occupational Health, Finnish Meteorological Institute, Fortum, Gasum, Helen, Indufor, Karelia University of Applied Sciences, Lappeenranta University of Technology, Mantsinen Group, Measurepolis Development, Metsä Group, Metsäteho, Natural Resources Institute Finland, Neste, Pohjolan Voima, Prometec, Savcor, Senfit, Stora Enso, Tampere University of Technology, University of Eastern Finland, University of Helsinki, University of Oulu, UPM-Kymmene, Valmet Automation, Valmet Technologies, VTT, ÅF Consult
Previous partners: European Forest Institute, Finnish Geodetic Institute, Inray, Metsähallitus, MW Power
More information
• General presentation
• Factsheet
• Twitter: @BESTbioenergy
• Blog: https://bestbioenergy.wordpress.com/
Internal program portal