ARVI – Material Value Chains
The objective of the ARVI (Material Value Chains) research program is to build a solid and broad competence background, i.e., an innovation platform, based on which the Finnish material recovery industry may extend their businesses and improve competitive positioning in the global markets. The program creates data, assessment tools and concepts for the value chain management and processing of materials to enable for the Finnish companies to expand and deepen their knowhow and to find out new technologies, process solutions and services as well as new ways to combine them to meet the requirements of future markets.
First time ever, such a large group of companies has formulated a common, long-term vision and research roadmap to find out solutions to efficiently capture the value and business potential of various material flows. In 2013 the turnover of the recycling business of the key export companies in ARVI was around 2 billion Euros. The goal of ARVI is to enable around 20% annual growth doubling the turnover by 2020 to reach 4 billion Euros. The growth originates mainly from the increase of the export in recycling of plastics, MSW, metals, WEE and ashes through the commercialization of the new recycling technologies and business concepts developed in ARVI program. Even concervative estimations forecast the turnover of these national recycling business actors to exceed 12 – 14 billion Euros in 2030.
The research in ARVI program focuses on systemic assessment of material recovery and recycling opportunities. Attention is very much laid on studying recycling of such materials and elements. Detailed knowhow is created on material compositions and structures, and processing technologies are studied to modify the materials for reuse purposes or to capture valuable components found in very small amounts in complex matrixes. In addition, different types of modelling and assessment methodologies for chemical, process, LCA, environmental footprint and techno-economical calculations are combined to perform sopficated overall analyses of material value chains.
Structure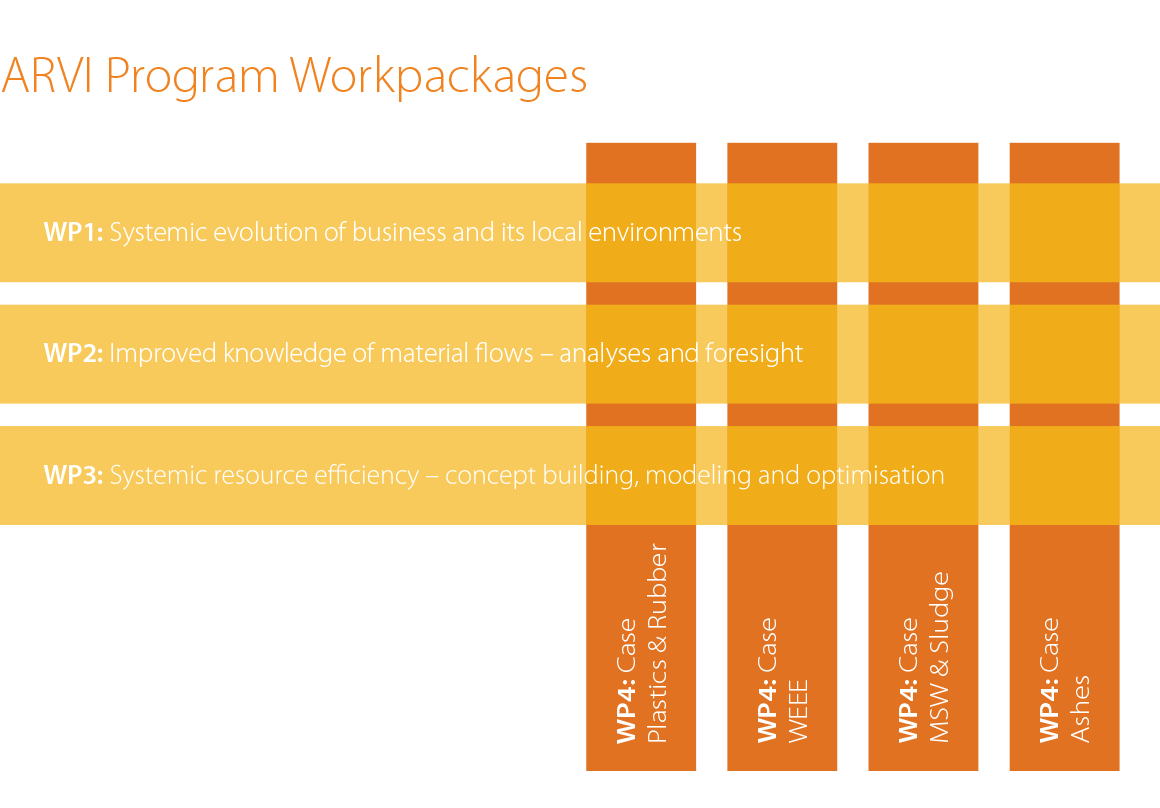 The program is divided into four Work Packages each of which is focused on a specific research theme:
WP 1: Systemic evolution of business and its local environment
WP 2: Improved knowledge of material flows – analyses and foresight
WP 3: Systemic resource efficiency – concept building, modelling and optimisation
WP 4: Case Studies for Plastics, WEEE, MSW and Ashes
Participants
The program consortium consists of 29 organizations out of which 18 are companies and 11 research and public organizations. The companies represent 4 different industrial sectors and the research partners' work 13 different scientific disciplines.
Internal program portal