Green Electrification – GreenE2
New value from P2X2P and Products
Innovation ecosystem project orchestrated by CLIC Innovation, Feb/2020-Jun/2022
GreenE2 is an open innovation ecosystem for all companies and organizations which are interested in developing knowhow and business opportunities related to power-to-X-to-power and products. At the same time, GreenE2 tackles the ambitious target of Finland to become climate-neutral already by 2035. Green electrification is an enabler concept that reforms value chains and provides business potential to various companies that previously have not necessarily been part of the traditional industry sectors around hydrogen.

Background
The key idea of Green Electrification is that abundant availability of renewable electricity will enable decarbonization of not only the energy sector but also other industry sectors. Electricity can be used to produce hydrogen from water which can be utilized as such or to synthesize hydrogen with carbon dioxide into products; such as chemicals, synthetic fuels, methane and even food. These 'e-products' can also be used for energy storage, which brings the much-needed flexibility to the energy system. Extensive cross-sectoral cooperation is needed to facilitate this enormous transformation. The decarbonization will require development and adoption of new technologies, new regulatory frameworks and new business models. At the same time, this change creates significant new business opportunities for Finland, which the project aims to capture.
Objectives
The aim of GreenE2 is to create a cross-sectoral network for global business in Finland. New business is expected in three areas: green hydrogen, technologies and 'e-products' (chemicals, fuels). The project is the first step in cross-sectoral cooperation aimed at building a sustainable new market and significant climate action.
The three business spearheads: green hydrogen, technologies and e-products
Hydrogen – as the key energy carrier – is also at the very center of the interest of all stakeholders. Green hydrogen i.e. hydrogen from renewable sources, including production technologies, infrastructure, safety, industrial use etc., offers great business potential and therefore it has been chosen as one of the business spearheads of the ecosystem. If steel, cement and chemical industry could change their processes to utilize green hydrogen as energy carrier, this would have enormous positive climate impact as well. Therefore, economic value comes not only from new business opportunities but also from mitigating the costs caused by climate change.
Technologies enabling the electrification, use of hydrogen as well as CO2 conversion technologies has been selected as the second spearhead for businesses. Electrolyzers, carbon capture technologies as well as catalytic, biological and thermal processes to convert and utilize CO2 are possibilities that are not there yet at-scale. For Finnish companies this may offer new business opportunities.
The third identified business spearhead are the chemicals produced using renewable energy and CO2 (e-products). These may include e-fuels but also substitutive products for all possible fossil-based chemicals in the market today.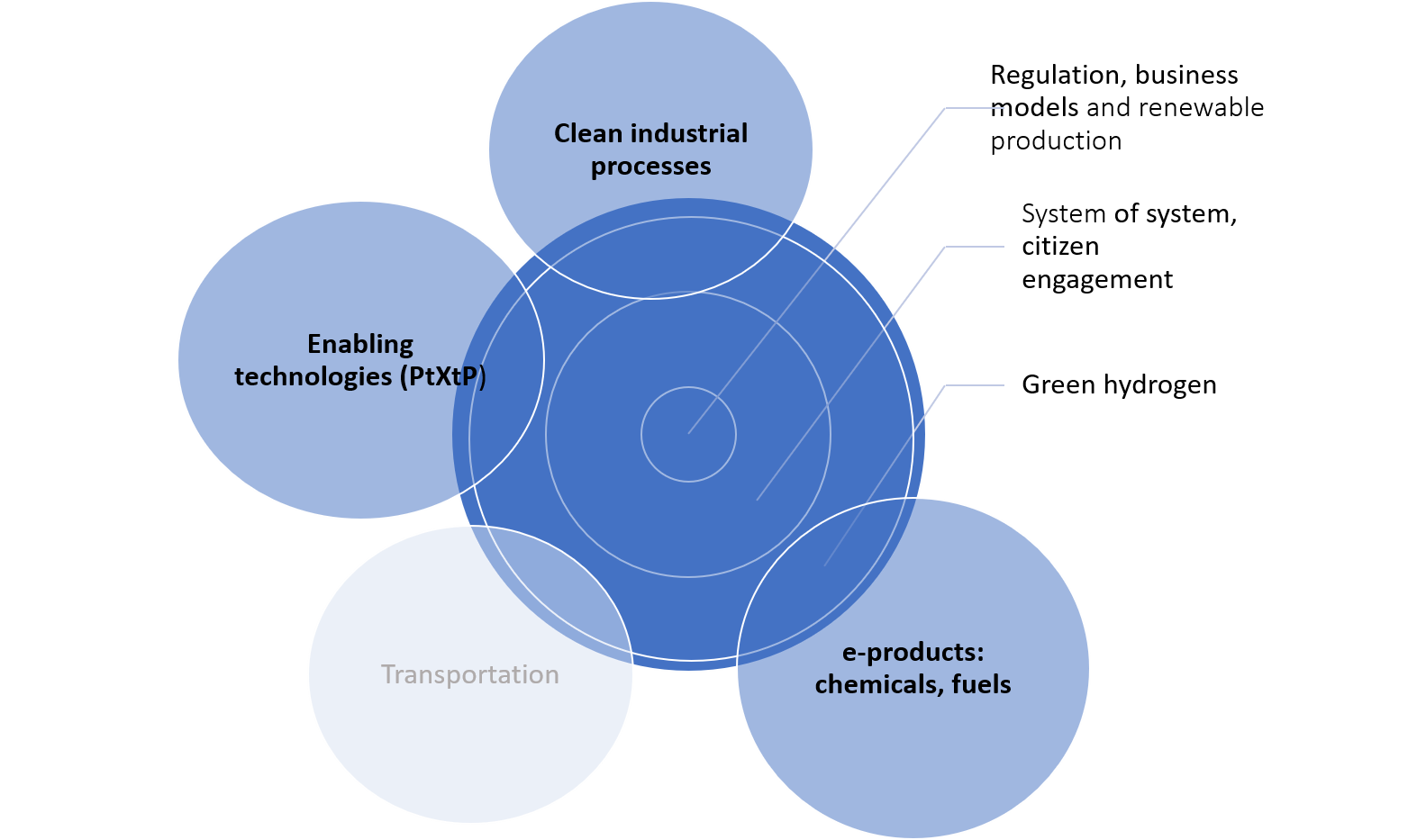 The structure of the GreenE2 ecosystem.
Activities
GreenE2 brings together actors from different sectors. Information on public projects and relevant actors in Europe will be collected and strategic partnerships will be formed. A common vision and roadmap for business and competence development will be strengthened. In addition, cross-sectoral cooperation will be facilitated to carry out market shaping activities, to develop better operational environment and to prepare collaborative RDI projects.
In co-operation with
Funding partners of the GreenE2 are CLIC Innovation Oy, Business Finland and a number of companies. The initiating companies of the ecosystem are Flexens, Fortum PLC, Wärtsilä, St1, Vantaan Energia, AFRY, Gasum, Helen, Energiateollisuus, Valmet, UPM, SSAB, ABB, Elenia and Neste.
VTT and LUT did valuable work on the Blue Electrification project in the fall of 2019, and GreenE2 is continuing the work that was started then.