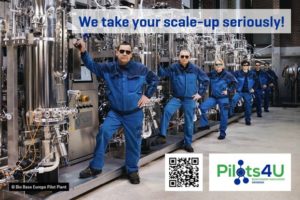 Are you in a need of scaling up your bioeconomy related process? Open-access pilots and multipurpose demonstration infrastructures for the European bioeconomy are now collected to an easily accessible database set up by Pilots4U. The database includes already hundreds of facilities available for you in almost 90 countries.
Find the database here https://www.biopilots4u.eu/asset-database.
You can also find more information watching the video https://vimeo.com/276393479.
Pilots4U is targeting to help in getting bioeconomy innovations into the market. The project has received funding from the Bio Based Industries Joint Undertaking under the European Union's 'Horizon 2020 Research and Innovation Programme', under Grant Agreement No 730052. CLIC Innovation Ltd is one of the eight project partners. For more information, visit https://www.biopilots4u.eu/content/about-us